Channel Visibility is a proven solution for collecting data from external business partners. It is being used by Fortune 500 companies such as Sun Microsystems, Hewlett Packard and Sony to track and manage channels performance. Channel Visibility enables sales management, marketing, finance and operations to work in tandem to achieve high sales channel effectiveness. It provides a single platform, and enforces discipline through processes, to Collect, Validate, Measure, Consolidate and Report channel data. Key business indices and analytics are provided to measure the reliability of data and to aid in making quality operational and strategic decisions.
i

Channel Visibility provides a framework to collect data from channel partners who are using different systems and data formats. Aside from the typical data format validation, the system incorporated business rules relevant to channel sales and inventory management. Exceptions such as reported and actual sell-out mismatch and parallel imports can be flagged out by analyzing the data. Channel managers can use these information to take suitable remedial actions.
Data consolidated can be used to build valuable profile information about customer and partners. These information can in turn be used to design targeted programs to help partners sell more products to focused customer segments. Profile data, along with timely and accurate channel information is key to an effective channel infrastructure.
With Channel Visibility, manufacturers are able to automate the process of data collection from partners worldwide. The frequency of collection can be as much as daily or near real time. By increasing the frequency of data collection and monitoring of critical channel health indicators, manufacturers will be able to derive the following value for the quick response:
React faster to market demands
Ensure healthy channel behavior by rewarding and compensating sales effort based on actual sell-through than sell-in data.
Reduce overstocking of non-moving items in the channel to generate profit and improve cash flow.
Improved sales forecast accuracy that leads to reduction of logistic cost and plant utilization.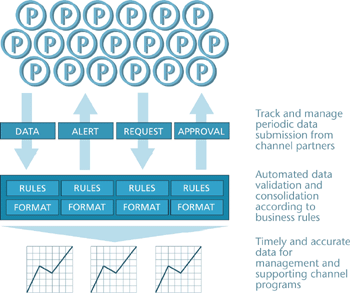 Channel Visibility Channel Profiling Channel Programs Channel Data Consolidation
Performance Review and Incentive Management Partner Exchange Network Channel Visibility Benefits
White Papers